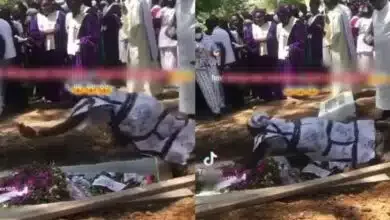 A viral video captures the moment a bereaved woman threw herself on the coffin of her loved one during his burial.
The burial was being held and the coffin laid down in the grave when the lady couldn't contain her grief no longer.
In the video shared online, the woman who was overcome with intense sorrow jumped into the grave, evidently preferring to be buried with the deceased.
This drew shouts of shock from mourners who had gathered to pay their final respects.
People quickly moved in to lift the woman who had apparently passed out from the impact of landing on the wooden coffin.
Watch the video below: