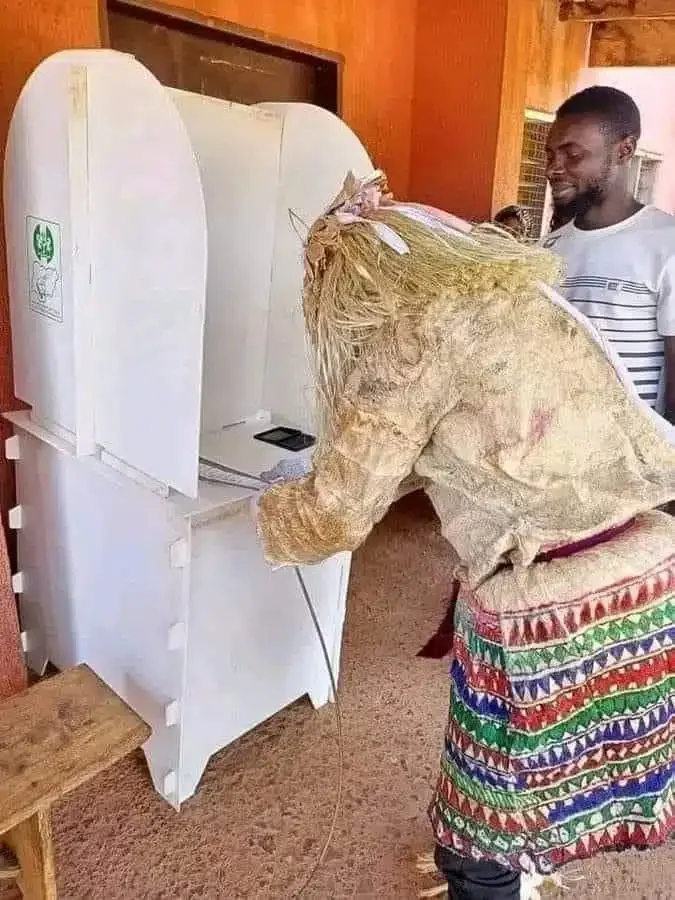 A Yoruba deity known as 'Ara Orun' has been captured on camera casting its vote at a polling unit in Lagos state.
As some states around the country held their guber elections, it came as a surprise when a representative of the gods came to exercise its own electoral franchise.
It was seen in a photo shared online thumb printing for its preferred candidate.
However, netizens have wondered how he was accredited to vote at the polling unit since it wore its full regalia.
See reactions gathered below:
kvng_mst wrote: Ara orun sef no want bad governance
adaikwerre wrote: This is the problem. How did he Proceed without BVAS capturing his face? Abi he remove mask? Netflix no do pass like this.😂
ellarine123 wrote: "My tiredness is tired of being tired!"
sisiherb wrote: "As ara aye no fit vote nko?awon ara orun ti take over..."
deartmosphere wrote: "So BVAS captured him. Dey play"
kelvinorolua wrote: "Even the gods want a better Life"
whoisanazii wrote: "Even the gods de cast votes😂"