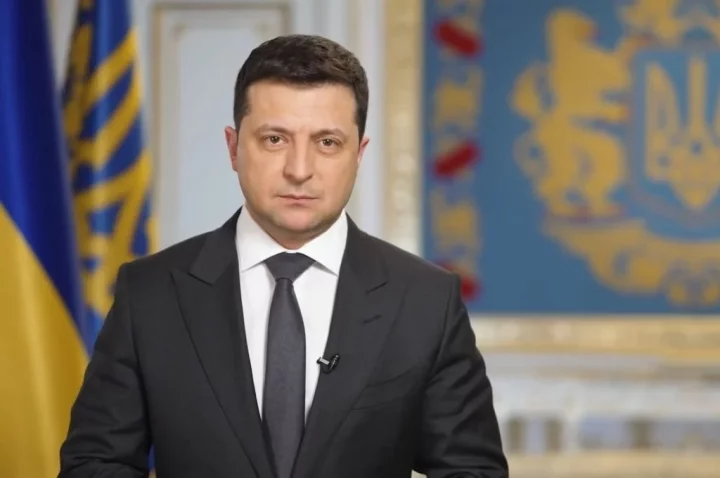 Ukraine President, Volodymyr Zelensky, has come under fire for congratulating Nigeria's President-elect, Bola Tinubu, who won last Saturday's 2023 presidential election.
Zelensky had, in a tweet via his Twitter handle on Thursday, while congratulating Tinubu, said his country was ready to work with Nigeria to overcome global challenges, including threats to food security.
He tweeted:
"Congratulations @officialABAT on the victory in the election of the President of Nigeria. I look forward to close cooperation. I am convinced that the two-way interaction 🇺🇦 and 🇳🇬 will strengthen. Ukraine is determined to work together to overcome global challenges, including threats to food security!"
However, some Twitter users, mostly Nigerians, trolled Zelensky over his congratulatory tweet to Tinubu, while others supported the Ukrainian President.
Here are some tweets gathered on Twitter:
@obanojnr, "Nigerians are right now in grief.. please don't add to it.. Wishing someone CONGRATULATIONS who rigged his way into power is very wrong.. so many Nigerians were injured, died in the course of last election..For this, I say CONGRATULATIONS TO RUSSIA..
@OdinKinetic, "Congratulations to Putin and the Russian federation. We the citizens of Nigeria stand with you and God will always protect the people of Russia."
@IjeleMela, "Corrupt people always know how to align with one another. This guy is probably very corrupt."
@WeriseB, "May Putin never leave Ukraine!! Amen!"
@TheOliviaMead, "You will not get any money from Nigeria! Get out!"
"Our democracy was invaded and you are congratulating the man ... on behalf of Ukrainians," @aai_austin claimed in reply."
@valentinowpg said, "Mr. President you may have to do this congratulation once again in the nearest future. We know when you won your presidential election, it was the will of Ukrainians that voted for you and voted out the pro-Russian govt. Ours wasn't the will of the people. Good luck in the war."
"It is now obvious that Zelensky has not learnt enough lessons."
@gaiuschibueze said, "No wonder Russia wants to run over your country."