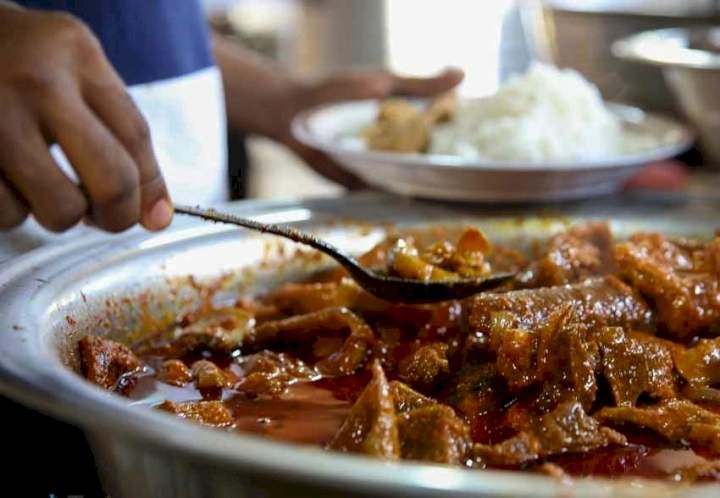 There was mild drama on Saturday at a restaurant in Ganaja village, a suburb of Lokoja, Kogi State when a middle-aged restaurant owner detained two of her customers for hours for their inability to pay her in new naira for the two plates of food they ate.
One of the victims who was identified as Ahmed said he and his colleague were at the restaurant to eat a plate of fufu each with two meat at the cost of N900.
He said:
"After we finished eating the food, I gave the madam operating the restaurant N 2,000 old naira as payment for the two plates of food we ate, expecting her to give me N200.

Rather than giving me the balance, she retorted, "Are you not aware that we don't accept old naira notes as payment for our services again?

Ahmed said when another customer reminded the restaurant owner that the old notes remain legal tender until January 31, 2023, she insisted that the two customers must pay her in new naira or remain detained.

"We thought that the madam was joking but she insisted we must pay in new before we could leave her restaurant or we begin to wash plates as an atonement for the food we ate.

"After some 30 minutes or so, another customer who is familiar with the restaurant intervened to bail us with a promise to pay her later in new notes".
We report that the effects of the scarcity of new naira notes in Lokoja and its environs heightened on Saturday with many residents complaining bitterly over their inability to execute some critical social and economic activities.
This is especially in the case of purchasing food items, as market women and men rejected the old naira as a means of business transaction.
Many customers, who trooped to various banks in Lokoja to withdraw money from ATMs said they could not do due to the mammoth crowd among other inconveniences.
At a point in one of the banks, the ATM suddenly stopped dispensing, leaving the customers groaning with long faces.
Those who resorted to patronising Point of Sale(PoS) to withdraw money, told our correspondent that they paid N500 charge to withdraw N 5,000 new naira instead of the normal N100 charge among other higher charges.
They called on the Central Bank of Nigeria (CBN) to harken to pleas of the Senate and other Nigerians and institutions to extend the January 31 deadline during which old N200, N500 and N1,000 will cease to be legal tender in the country.