A Ghanaian man has been captured on camera getting handsy with his lover in a moving commercial bus filled with other passengers.
In a video making rounds online, the man slipped his hand into his girlfriend's blouse and was seen smooching her body with reckless abandon.
The man who was unfazed by the presence of other passengers in the bus continued touching the lady for a long time.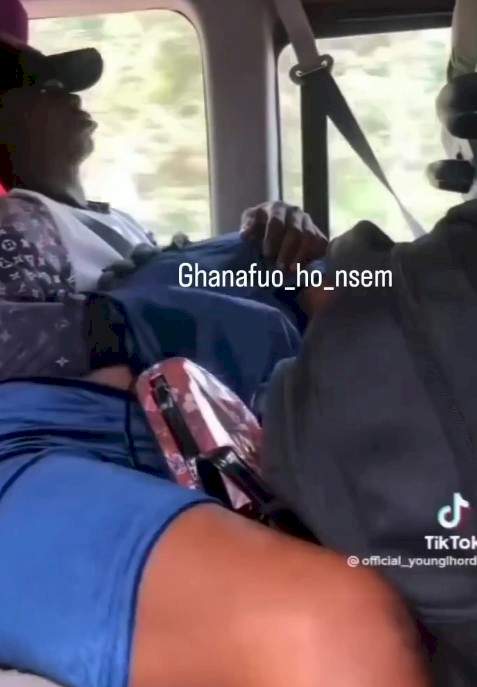 The woman also appeared to be enjoying her man's touch as she was seen moving her body at intervals.
The video has sparked a ton of reactions since it was shared online, with many wondering why the couple couldn't wait till they got to their destination before starting their sexual rendezvous.
Some others queried the person who filmed the incident for not respecting the privacy of the couple.
See how some reacted below,
A tweep with handle @afia1604 wrote, "So u can't wait until u get home!!!!!!"
Another one identified as @faithfuljaykay wrote, "I don't see anything wrong with this. No wonder couples do not kiss outside their room in Ghana after their wedding day. Allow black man to enjoy life small because this life is too short."
@kriptic_4real wrote, "Allow people to be themselves without recording and invading their space"
@iceman_4eva_ wrote, "Stupidity! how can you video someone without the person's knowledge. What's wrong with you people?"
Watch the trending clip below,