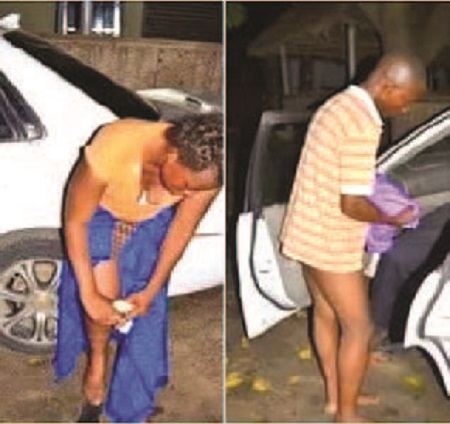 In many Nigerian cities today, the business of hotel has become one of the most popular vocations to engage in. While a lot of people visit such places to lodge as guests, others simply besiege them to satisfy their lust for cold drinks and other tasty eatables. But there are also dozens others whose only mission to such places is to hire one of the rooms for between one to two hours to have fun with a member of the opposite s*x.

Usually known as 'short time' or 'short rest' in many local hotels, patronage along this line is what in fact spins in the cash for a lot of these facilities and their owners. Morning, afternoon, night - individuals desperate for sexual pleasure ensure that this tradition never ceases, queuing for several hours for their turns to go into any of the rooms with their female 'partners' for a rewarding session of s*x.

However, while these hotels and their affordable 'short rest' packages have provided consenting men and women - young and old - to satisfy their libidinal urges, several others appear to have found new and quicker ways of cooling off when the feelings get too strong. While sex in uncompleted buildings has been around for a long time, cases of men and women making love in cars - even though not completely new as well, appears to be gaining popularity in many parts of Nigeria today, especially in Lagos. After weeks of careful observation in some very popular areas of Lagos, Saturday PUNCH's findings revealed that indeed making love inside cars has become almost a norm these days in the city.

For example, during a night out at a popular club around the Government Residential Area section of Ikeja, Lagos capital, recently, our correspondent, while leaving the premises in company of a colleague, observed how a young man and a lady engaged in a hot romance at the back seat of the vehicle parked close to their own car. Amazed at the sight, our correspondent quietly walked past, watching from a close distance as the 'lovers' took the act to another level. After passionately kissing each other for about three minutes, the lady, without being prompted, hopped on top of the bulky-looking guy as the young man caressed her from head to the waistline in response. While still standing and looking amazed at the scene, a middle-aged security man working at the club, who was on routine patrol to ensure that parked cars were safe, interjected.

"Bros, unadey surprised," he asked in Pidgin English, flashing a warm grin in the process. "This na normal thing at this time of the day. We don see this type of show tire, so no be new thing for us. As long as na inside their own motor them knack themself, no wahala. The main thing be say the guy go settle us because without the security wey we dey provide, them for no fit enjoy each other," he added in more Pidgin English, as he walked away from the scene to continue with his inspection.

Time was 3:35am - the early hours of Saturday morning with the dew unleashing its icy anger on any man or object standing by.
But while the sight at the GRA came with a tinge of surprise, the experience became almost alarming as our correspondent drove towards Opebi to connect Alausa - about 10 minutes away. Just by the end of the turning connecting the bridge after Sheraton Hotel and Opebi, some rare sight greeted passersby. As if in a contest and trying to outdo the other opponents, young men and scantily-dressed ladies could be clearly seen 'digging' it out in two separate cars while taking different positions. The first car, a black Nissan Maxima, had one of the ladies kneeling on top of the front passenger seat with the guy 'giving it to her' from the back. The occupants of the second vehicle, a Honda Accord model, took a similar position as the pair at the GRA, having the time of their lives without minding the occasional light flashed towards their direction by passing cars. The scene was about 50 metres away from a popular club in the area. Everybody around the place went about their normal business as if nothing strange was going on.

Confronted by these 'bizarre' scenes, our correspondent sampled the views of a handful of young men at a drinking joint recently to find out if they had ever had s*x inside a car and what in fact motivated them to do so. While some said the act was one of their biggest sexual fetishes, others explained that they engaged in it out of curiosity to try 'something new' and as the most convenient option at the time.

One young man, who identified himself only as Kayode, said that even though he is not proud to say it, he totally enjoyed the experience of making love in his Sports Utility Vehicle with his girlfriend of five years.

He said that though the lady initially refused to accede to the idea when he first mooted it to her while they were at an all-night event at a popular hotel on the Victoria Island area of the city, she however accepted after some persuasion.

Kayode however, pointed out that alcohol played a major role in the entire episode.

"My girlfriend thought I was mad for even mentioning such to her that night at the club," he said. "She felt it was a few hours to daybreak and that we could always wait to get home before having s*x. But after some persuasion helped by the volume of alcohol that had gone into our system, she finally agreed. We went straight into the back seat of the car to 'rock' ourselves.
"The car was parked at a dark corner of a field opposite the hotel and luckily for me, my woman wore a mini gown, so it was easy for us to do it right inside the vehicle. But of course I had to switch on the engine for the air condition to run. I did it because I had heard friends saying it and I wanted to see how it feels like myself. It was a few minutes of madness we both enjoyed and still talk about till this day," he said.

Another young man at the joint, who refused to give out his name, also shared his experience with Saturday PUNCH. He narrated how in December 2016 during the bachelors' party of a friend he made love to a lady he had met only that night at the event inside his car.
According to him, after being 'moved' by the seductive dance steps of the light-complexioned lady, he stylishly lured her out of the party for a chat so that they could learn more about each other. He said in the middle of the discussion, the chemistry became intense, leading to an explosive session of s*x right inside his Toyota Sienna vehicle.

"Everything happened very fast," he said. "We never both planned it for it to go that way because it was the first time we were meeting each other. But being grown ups, we clicked almost instantly as soon as we started dancing with each other. Once outside by the car, it wasn't long before s*x came in because of the chemistry between us at the time. We spent close to one hour inside the car.
"For me, it was not the first time of having sex inside a car. I had done several times and really like the feelings it brings. Even though I can never forget that experience, I have done more than four times since that period," he added.

Interestingly, cases of people having sex inside cars are not limited to these alone - there are also few cases of homosexuals of having it in their cars. Some of them were even arrested by law enforcement agents.

For example, in January 2016, two men, who allegedly had anal s*x inside a SUV, were paraded in a Magistrates' Court in Ikeja after being caught in the act by police officers.

The accused - Innocent Egbuna, 33, and Jide Ajayi, 21 were tried on a three-count charge bordering on conspiracy and act of gross indecency.

According to the prosecutor of the case, Sgt. Joseph Ajebe, the offences were committed on January 18 of that year along Ajao Road in Ikeja, Lagos.

"The accused were found inside a parked Nissan Jeep with registration no. KSF 914 AC having anal sexual intercourse," he revealed.

Chief Magistrate of the court at the time, Mr. Alexander Komolafe, granted the two men bail in the sum of N100, 000 each with two sureties in like sum respectively.

Five months later in June of that year, two other men were also arrested in Abuja while having sex in a car.

After their arrest, the suspects, Vincent Chikwukume and Nnandi Ujunwa, were brought before an Abuja Grade 1 Area Court for allegedly having sexual intercourse in a public place.

According to the prosecutor of the matter, A.Z. Dalhatu, the men were apprehended during a routine surveillance of one of the popular parts of the city around 12:45am by police officers.

That is not all. In 2015, a policewoman was demoted after being caught having sex in a car inside the premises of Police College, Ikeja, Lagos, during a promotional examination course.

The woman identified only as Helen and said to be married, was reported to have been discovered by a superior officer during a night patrol of the compound - hours after candidates were expected to have gone to bed. The man disappeared while being interrogated at the spot while the woman was punished for the act.

Strange or 'morally awkward' as it sounds, making love inside a car is not limited to Nigeria alone, it is a trend that has in fact continued to gain prominence in other parts of the world, too.

For instance, in April 2016, what started as a wild experience for a man and woman having s*x while driving along a busy expressway in India ended on a tragic note after their car rammed into a stationary truck. Carried away by the sweetness of their bizarre act, the man died instantly after the crash while the woman suffered serious injuries to her head and leg.

The following month in Lusaka, Zambia, a taxi driver was beaten mercilessly after being caught making love to his friend's wife inside a car.

The driver, Patrick Chanda, according to reports, claimed that the woman offered him sex rather than paying the transport fare.

"After taking her to work in the morning, she told me that she will give me money later in the afternoon. I agreed and she later called me in the evening to pick her up somewhere. I demanded for my money.
When Saturday Punch reached out to popular singer, 9ice over the trend, he frowned against it and gave his two cents on the issue.

He said, "Personally I frown against such act and inasmuch as I understand the fact that sexual urge can grip someone anywhere, you have to be discreet about it. Instead of going into your car to have sex, why don't you just drive home or go to the nearest hotel and do what you have to do? Those who engage in such act constitute public nuisance.
"It is against the law and if you are unfortunate you are caught by the police, you are playing with jail term or a fine. This is something you could have avoided and it would just be for a few minutes of fun. I don't think it is worth it. Such a thing has never happened to me and even if a girl approached me and wanted to have sex with me in the car, I would definitely opt to go home or a hotel because my image and brand is at stake. I would not have sex in a car."

As for popular comedian, Bash, s*x in the car is a no-no for him. He said no celebrity would engage in such because no one would want to ruin his brand over a few minutes of fun.

"I am not for it because it is not ideal. I am aware that it happens during events especially among those that go to the club but to me, it is not sensible. To have s*x you have to use your private part and it has to be done in the confines of a private space. It is impossible for me to engage in such a thing because s*x has to do with consent between two people. I cannot agree to have s*x in a car. There is no way such a thing can happen with my consent. I don't take alcohol, neither do I take drugs. I can state for a fact that celebrities do not engage in such because we have a name to protect. Imagine a celebrity caught pants down in a car, his brand would be adversely affected," Bash said.

A psychologist, David Inarunma, explains that such act could be motivated by the development of certain fetishes over time without individuals even taking note.

He said that even though the brain is capable of forming sexual associations around certain objects, there is every likelihood of wanting to try such act having engaged in it previously.
"People with higher s*x drives are more likely to have uncommon sex interests. A super-charged sex drive leads to arousal in situations where s*x with a partner ordinary would not have been possible.When you're in such state of sexual arousal, your disgust impulse weakens, and so the things that you ordinarily would find repulsive would become normal.
"A lot of people as a result of interaction with others, like to try something new and s*x in the car is one of the ways such individuals would want to express their innate desires particularly towards the opposite sex. It is a form of adventure and exploration for many, something that brings a weird feeling of satisfaction," he said.

***********
Culled from Saturday Punch