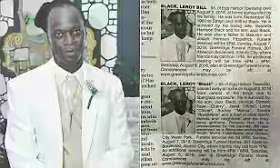 A New Jersey man was so loved, he had two competing obituaries when he passed away Tuesday - one from his wife and another from his girlfriend.
Leroy B. Black, of Egg Harbor Township, died Tuesday from lung cancer due to fiberglass exposure, his obituary said. He was 55.
Yet in announcing funeral arrangements in the Press of Atlantic City, there were two different obituaries for him. On the top one, Black is survived by his 'loving wife, Bearetta Harrison Black.'
In the next one, he is survived by his 'long-time girlfriend, Princess Hall.'
An employee at Greenidge Funeral Home said there were two obituaries because 'the wife wanted it one way, and the girlfriend wanted it another way,' Philly Voice reported. The employee said everybody knew the two obituaries were happening.'
The obituaries didn't even agree on what to call Leroy.
On the wife's version, he goes by the middle name 'Bill.'
The second lists him by his nickname 'Blast.'
Black was a fiberglass technician at South Shore Contractors and Ocean City water Park. He is also survived by his son Jazz Black.